Care in Health
Aims to improve healthy aging and alleviate the burden of cardiovascular disease by identifying thus regulating one of the main risks of cardiovascular disease.
CArdiovascular REsolution of INflammation to promote HEALTH (CARE-IN-HEALTH), responds to an unmet medical need by addressing one of the critical hallmarks of the phenotypic and functional cardiovascular during the transition from health to Cardiovascular disease (CVD) : Chronic Inflammation. 
Identifying the resolution of the chronic lipid-driven/-regulated vascular inflammation allows to develop and test, in a real-life setting, tools for use in health care and by citizens to stay healthy.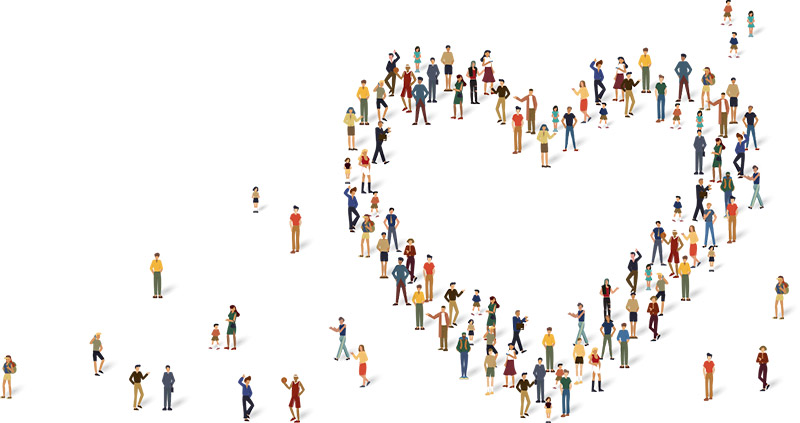 Cardiovascular disease (CVD) is the leading cause of mortality and a major cause of morbidity in Europe.
CVD affects the lives of over 49 million people and costs €200 billion to the EU economy, despite major advances in its prevention and treatment.
The rapid changing society alters the implication of lifestyle CVD risk factors and provides novel challenges and opportunities to alleviate the burden on the life of citizens and reduce associated costs.
From a European perspective, in addition to improved medical care, preventive measures and efficacious risk stratifications are crucial to attain what is referred to as healthy aging.
CARE-IN-HEALTH ATLAS
scientific evidence and understanding of health-to-disease transition
Research and Health care professionals
CARE-IN-HEALTH MCDSS
improved guidelines for personalized prevention strategies (end-user)
Health care professionals 
CARE-IN-HEALTH BIOSENSOR
own health active management and improvement tool for citizens (end-user)
Non-hospital-based healthcare professionals
Objectives
CARE-IN-HEALTH will optimize CVD prevention by a personalized resolution-pharmacology in health care in addition to counsel and monitor the resolution-health in the hands of the citizens.
This searching project will show that :
Next generation precision medicine-based strategies can be designed to prevent health-to-disease transition
The newly developed tools have the potential to improve healthy aging while reducing associated costs across Europe
Europe can reach a global leading position for CVD prevention
Expected outcomes of the Staying healthy call and its destination, including to understand chronic inflammation factors triggering the health-to-disease transition, provide optimal counseling to citizens for improving their health
Health care professionals can be provided with health indicators of chronic inflammation for monitoring the health status
The dysregulated chronic inflammation behind atherosclerotic CVD (ASCVD) and its cardiovascular consequences are largely caused by a failure in the resolution of inflammation.
Inflammation is a biological response of the immune system that can be triggered by a variety of factors, including pathogens, damaged cells and toxic compounds. An appropriate immune response is crucial for protecting us against harmful stimuli. Indeed, chronic inflammation promotes the growth and loosening of plaques in arteries which triggers blood clot formation – the primary cause of myocardial infarction and stroke. Inflammation can be regulated by changes in the citizen's lifestyle, e.g. physical activity, smoking cessation, weight loss and healthy nutrition lower inflammation.
Elevated levels of blood lipids (hyperlipidemia) are well documented risk factors for ASCVD. An appropriate lipid intake* can pave pathways towards resolution of inflammation and development of global prevention strategies
Hyperlipidemia is directly associated with cardiovascular health-to-disease transition by triggering the chronic inflammation. While lipid-lowering is an effective way to reduce the ASCVD risk, the residual risk remains high mainly due to the chronic inflammation. Lipids act as both direct proinflammatory stimuli, and through regulation fine-tuning of the immune responses. The latter is transduced through bioactive lipid mediators derived from long-chain PUFAs, which tightly regulate inflammatory processes. Whereas the -6 fatty acid arachidonic acid (AA) serves as a substrate for classical proinflammatory lipid mediators, e.g. leukotrienes and prostaglandins, the -3 fatty acids eicosapentaenoic acid (EPA) and docosahexaenoic acid (DHA) are precursors for more recently discovered specialized proresolving mediators (SPM), which act as "inflammation stop- and healing signals". Resolution-pharmacology is currently the front line to combat inflammation without causing immunosuppression. The ambition of this project is to take the chronic inflammation concept to the next level: Resolution-health. This will provide a paradigm shift for how to stay healthy in a rapidly changing society by promoting resolution of inflammation instead of anti-inflammation.
*as dietary intervention complementary to already proposed ones for ASCVD
3
The Immunosuppression Challenge
Achieving inflammation lowering without causing immunosuppression remains a major challenge in CVD. Indeed, the implementation of anti-inflammatory CVD prevention in health care has been hindered by serious infectious side effects, due to an inherent immunosuppression.
Clinical trials showed that direct anti-inflammation strategies to counteract cardiovascular inflammatory conditions reduce cardiovascular risk but at the price of increased infectious susceptibility*. Resolution of inflammation is an active process coordinated to limit and eventually turn off unnecessary inflammation while retaining an intact host defense. It is known that mediators of the resolution phase preserve a functional immune response to infection and injury while preventing the transition from health into chronic inflammation.
*N Engl J Med 2017; 377:1119